Fall 2013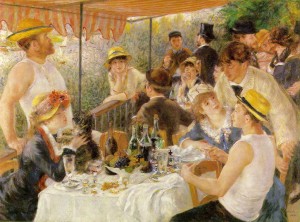 Welcome to the French Club!
The French Club meets every other Wednesday (August 28, September 11, September 25, October 9, October 23, November 6, November 20, and December 4)
from 3:00 to 3:45  in the Social Sciences Building 105.
Throughout the year we hold various events on campus celebrating French/Francophone culture.
These events are open to anyone and normally feature music, films, games,  special activities… Did we mention the food, sometimes homemade, always delicious?
Our major event every year is La Soirée. However, in October 2013, we had our Soirée at the restaurant "La Bonne Soupe" in New York.
We also like to host events  on campus (Film festivals, Soirées, study abroad panels) and off campus including trips into New York City and Philadelphia to museums, operas, musicals, plays, dinners in French or Francophone restaurants.  Our trips always have a French twist, adding a certain « je ne sais quoi » to them that makes them that much more memorable.
So, if French Club sounds like something you'd be interested in joining, go right ahead!  There is no language requirement; in fact we love for people to go not only  because they are studying the language, but because they love all things relating to the Francophone world.
Interested in the TCNJ French Club?
Please contact us at: frenchclub@tcnj.edu
Our next meeting 
will be in January 2014

3:00 PM – 3:45 PM
 Social Science Building 105
Welcome !
Officers  for  Fall 2013

President: Amanda Scull


 Please visit our NEW website
Would you like to know abInter
esteout our club activities?