Fall 2022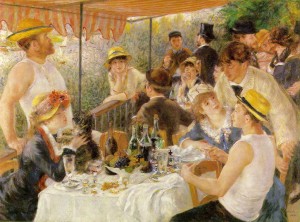 Welcome to the French Club of The College of New Jersey!
The French Club meets every other Wednesday (September 7 and 21 – October 5 and 19 – November 2 and 16 – December 7
from 2:00 PM to 3:00 PM – In SSB (Social Sciences Building) 102
Throughout the year we hold various events on campus celebrating French/Francophone culture.
These events are open to anyone and normally feature music, films, games, special activities..
We host events on campus (movie evenings, parties, Study Abroad panels…) and off campus such as trips to New York City and Philadelphia to museums, operas, musicals, dinners in French or Francophone restaurants.
Our trips always have a French twist, adding a certain « je ne sais quoi » to them that makes them that much more memorable.
So, if the French Club sounds like something you'd be interested in joining, go right ahead!
There is no language requirement! In fact, we love for people to go not only because they are studying French, but because they love all things relating to the French and Francophone world.
Interested in the TCNJ French Club?
Please contact us at frenchclub@tcnj.edu and visit our TCNJ French Club website
Would you like to know a